Semiconductor Automold System
Note
Motion controller with EtherCat capability to control about 16 axis of AC servo motors in a single network. EtherCat communication, using RJ45 cabling, offers high-speed data transmission (up to 100Mpbs) and up to 32 axis per network system. Ease of troubleshooting and flexibility in upgrading.
| Application | Controlled Equipments |
| --- | --- |
| Motion control for transfer and press systems | |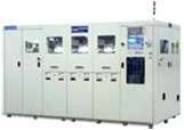 Note
Marine type approved PLCs are used onboard to sample fuel tank level, vessel speed at pre-defined intervals. Such data will be transmitted via satellite back to shore for engine performance analysis. Other security information onboard could be incorporated and transmit back to shore.
| Application | Controlled Equipments |
| --- | --- |
| Fuel tank level data logging onboard & transmit back to control room onshore via satellite communication | Tank Level Transmitter, RPM Sensor, Satellite Communication Equipments |