PROJECTS :: TRANSPORTATIONS
Note
PLC with marine type approval is used onboard to control operation of generators, winch, water tight doors and alarm monitoring. In some application, PLC is integrated with DVRs for alarm status storage.Remarks: Alarm status transmitted from PLC to DVR for storage purpose onboard.
| Application | Controlled Equipments |
| --- | --- |
| Alarm monitoring, generator and winch control using PLC | Generator Set, Winch, Water Tight Doors |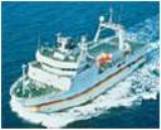 International Airport
Note
The baggage handling system is controlled by PLC with redundancy CPUs to ensure smooth operation with minimum downtime. High-speed CPUs are used for high speed and reliable scanning of baggage identity.
| Application | Controlled Equipments |
| --- | --- |
| Baggage Handling System using PLC | Transfer Conveyors, Barcode Readers |
Note
The facility equipment were controlled by PLC using remote I/O system. The 2-wire remote I/O system offer lower installation cost as compared to traditional point-to-point I/O wiring. This also offer flexibility in upgrading and ease of troubleshooting during commissioning and maintenance. SCADA offers constant monitoring and scheduling of equipment operations.
| Application | Controlled Equipments |
| --- | --- |
| Environmental control & monitoring using PLC & SCADA | Lightings, Exhaust Fans and Pumps |