ETHERCAT AC SERVO SYSTEM FOR PHARMACEUTICAL MACHINE APPLICATIONS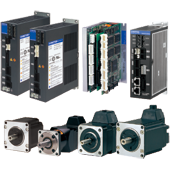 The SANMOTION R series delivers the high performance amplifier with EtherCAT interface and high torque motors.
The new closed loop stepping systems with EtherCAT interface can reduce installation space. One driver can control 2 motors to reduce installation space by 30% compared to single-axis driver. Model-following vibration suppression and disturbance suppression function have been installed. Safe Torque Off (STO) function helps motor current to stop safely. With this function, safety system is more easily installed on the equipment.
Great machines are born from a perfect match between control and mechanics. Servo System PB/R series gives you the extra edge to build more accurate, faster, smaller and safer machines. You will benefit from an almost 25% reduction in motor weight, and gain 50% cabinet space. You will achieve sub micron precision and ms settling time.
This system is suitable for semiconductor manufacturing machines and industrial equipment such as pharmaceutical, cosmetics pressing machineries.
Key Advantages & Features:
Compact size servo drives with EtherCAT connectivity built-in
50% Shorter Position Settling Time
Safety conforming ISO13849-1 Performance Level C/D
High-response frequency of 2 kHz
Low cogging torque servo motors
IP67 protection level in all motors
High accuracy provided by 20 bits encoder
Full closed loop encoder built-in
Real time auto-tuning
User friendly tuning and operation
Advanced tuning algorithms (Anti-vibration function, torque feed-forward,
disturbance observer)
Side by side mounting of drives reduces cabinet space needs
Double registration input provides application versatility
Specifications:
Encoder specification: Optical incremental / Absolute
Driver power supply:
Main power input 24/48 V DC 5 A
Control power input 24 V DC 0.5 A
Motor flange size: 28 mm sq., 42 mm sq., 60 mm sq. (Motors with absolute encoder
Max. ambient temperature: 55 °C
Protocol: CoE (IEC61800-7-201), FoE (ASCII code access)
Input voltage: AC 200 V-230 V (single phase/three phase), AC 100 V-115 V (single phase)
Output capacity: 15 A, 30 A, 50 A, 100 A, 150 A, 300 A
Motor rated output: 30 W to 15 kW